Garden planters are a fantastic way to spice up your garden. Even a rural garden can benefit from a special "punch" that a well-chosen planter will provide. Gone are the days of having to choose from between plastic and terra cotta pots for your plants. Advances in manufacturing have made it so that all different kinds of materials can be used for making flower pots and planters. Here are some ways that planters can make your garden look even better.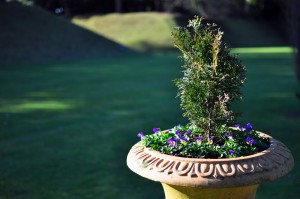 Metal Planters
Metal planters are easier to find than ever before. Whether you are attracted to enameled steel or copper with a beautiful patina, you'll be sure to find metal that will look just right with your garden. If you have a rustic, rural garden, a wooden planter that is sheathed in corrugated tin can be an eye-catching look for those hollyhocks. Yes, tin degrades over time, which will make it even more rustic looking, adding to the atmosphere of the garden.
Copper is another favourite metal for building planters. A copper pot looks quite natural in a rural setting, and when filled with peonies, can be a great focal point. Let the copper turn green, developing the patina that makes it so special.
Wooden Planters
You can even find wooden planters. Granted, you have to keep in mind that most wood will rot when exposed to water for a long time, but some woods, such as red cedar and teak, are quite durable in wet environments. And, these woods can make beautiful rustic planters in the midst of your rural garden. Rough cut timber, and the natural grains of certain woods, give a lovely texture to the garden, as well as some additional colour.
Why Use Planters?
Using garden planters in your garden gives you more design options. First of all, you can elevate plants, etting them up past shade or other plants. This can create the illusion of terraced plantings, even if you have planted on flat soil.
You can also spotlight a special planting with an attractive planter. A black mimosa tree in a large, stone pot can provide a striking focal point in your garden.
Planters can also control otherwise invasive species. Many people want a bamboo screen in their garden, but bamboo is a terribly prolific invader to the garden. However, if you contain the plants in large, sealed containers, you can enjoy your living bamboo screen without having it take over your garden.
Different sized planters can be placed in your garden to create depth of field Forced perspective can make huge gardens seem more cozy, and small gardens look more spacious. All of this can be accomplished with various sizes of planters and carefully selected plants. For example, shorter planters with fine-leaved greenery, placed at the back of a shallow garden, will make it look deeper.
So take the plunge! Spice up your rural garden with some well chosen planters.